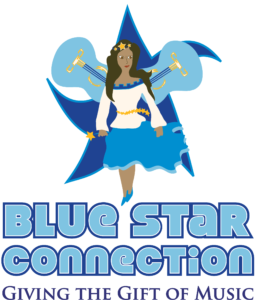 The Blue Star Connection (BSC) is a program of the non-profit organization Grand County Blues Society.   Not only does Blue Star Connection work with musical therapists and children in various hospitals and clinics, but BSC also hosts fundraisers and benefit concerts in many cities around the USA in order to support its cause.
The Blue Star Connection mission is to provide access and ownership of musical instruments for children and adults with cancer and other serious life challenges. To date we have reached over 1200 kids and have donated musical gear to 100 Children's Hospitals and Music Therapy programs, as well as several other community programs. Please help us continue this mission.
DIRECT CONNECTION 
Since 2007, we have helped over 1200 Blue Stars. We help Blue Stars in three main ways: directly, through hospitals, and through music therapists.
Many Blue Stars come to us via Direct Connection through our social media presence, or see us at an event, or just through word of mouth.
Regardless of how they find us, we assist them in every way possible. We meet with them and their family or guardians to understand their passion for music, financial situation, and the plan going forward for instruction through a music therapist or individual lessons.
Through your donations we provide the Blue Star with the instrument and connections to fully enjoy the "gift of music". The instruments are theirs to own and cherish.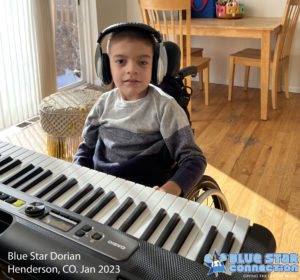 HOSPITAL CONNECTION
We have worked with over 100 hospitals. Many Blue Stars come to us during their treatment at hospitals. Whether is it cancer or some other life threatening illness, music becomes a big part of their recovery as it is a welcomed break from the treatments. John Catt (our founder) referred to it as "the cure for the cure".
Many hospitals have their own music therapy departments for which we have provided instruments to help serve their many patients and community rooms. When Blue Stars finally get to go home, we are often asked to provide them an instrument that they can take home with them to continue their recovery and musical growth. We provide everything they need to continue that path.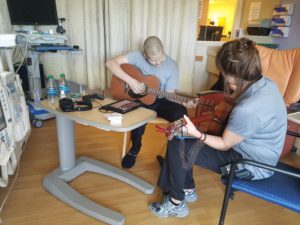 MUSIC THERAPY CONNECTION
Music therapists and their therapy organizations are our biggest advocates. They reach so many Blue Stars and they know exactly what the need is for each one as they receive their therapy.
We provide instruments to Blue Stars at the request of their therapist that is working directly with them. We also provide therapy organizations with bulk instruments to populate their practices, community rooms, schools, and community events.
Download our current program brochure for the full details on Blue Star Connection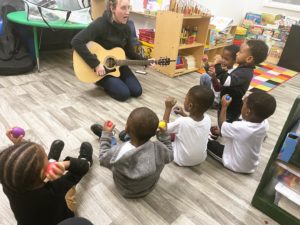 DONATE HERE!
Click on a button below to donate.
We have provided guitars, bass guitars, harmonicas, violins, keyboards, flutes and drum kits to more than 1200 kids in the program. We have Blue Stars in Colorado, Texas, California, Washington, Hawaii, Rhode Island, Florida, Illinois, South Dakota, Mississippi, Tennessee, Georgia, Nebraska, Nevada, Maryland, Indiana, Ohio, Pennsylvania, Virginia, Oklahoma, Oregon, Arizona, Puerto Rico, St. Vincent The Grenadines, and once upon a time, a beautiful girl named Sneha from New Delhi India.
We have lost many of our original Blue Stars – Devon, Sneha, Brandon, Shakiri, Adam, Amanda and Trevor. They are always with us as Blue Stars and their loved ones cherish the instruments that brought some peace and music into their lives. 
Forever Blue Star Sneha designed our first logo. Read Sneha's story
Blue Star Connection
P.O. Box 1530
Winter Park, CO 80482
For Program Inquiries and Instrument Donations
Occasionally we receive a donated instrument that can't be placed with a Blue Star. We resell those in our Reverb.com Shop and use the proceeds to purchase a new instrument and get it placed immediately.
Sign Up to Stay In Touch!
From time to time we send out news updates, event invitations, and more all related to Blue Star Connection.