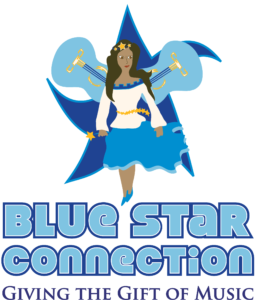 The Blue Star Connection (BSC) is a program of the non-profit organization Grand County Blues Society.   Not only does Blue Star Connection work with musical therapists and children in various hospitals and clinics, but BSC also hosts fundraisers and benefit concerts in many cities around the USA in order to support its cause.
The Blue Star Connection mission is to provide access and ownership of musical instruments for children and adults with cancer and other serious life challenges. To date we have reached over 1000 kids and have donated musical gear to 80 Children's Hospitals and Music Therapy programs, as well as several other community programs. Please help us continue this mission.
We have provided guitars, bass guitars, harmonicas, violins, keyboards, flutes and drum kits to more than 1000 kids in the program. We have Blue Stars in Colorado, Texas, California, Washington, Hawaii, Rhode Island, Florida, Illinois, South Dakota, Mississippi, Tennessee, Georgia, Nebraska, Nevada, Maryland, Indiana, Ohio, Pennsylvania, Virginia, Oklahoma, Oregon, Arizona, Puerto Rico, St. Vincent The Grenadines, and once upon a time, a beautiful girl named Sneha from New Delhi India.
We have lost many of our original Blue Stars – Devon, Sneha, Brandon, Shakiri, Adam, Amanda and Trevor. They are always with us as Blue Stars and their loved ones cherish the instruments that brought some peace and music into their lives.
DONATE HERE!
Click on a button below to donate.
We have connected with 1000+ Stars and counting!
We would love for you to become a Blue Star Connection Sponsor!
Blue Star Connection
P.O. Box 1530
Winter Park, CO 80482
For Instrument Donations and Programs Inquiries
Occasionally we receive a donated instrument that can't be placed with a Blue Star. We resell those in our Reverb.com Shop and use the proceeds to purchase a new instrument and get it placed immediately.
Sign Up to Stay In Touch!
From time to time we send out news updates, event invitations, and more all related to Blue Star Connection.