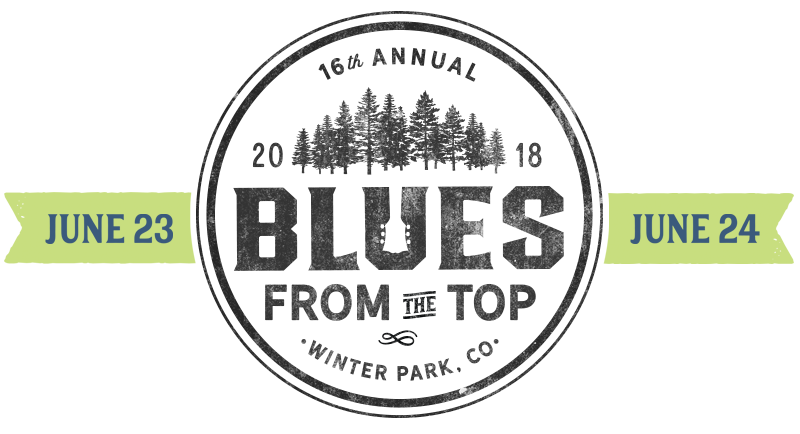 SAT JUNE 23 & SUN JUNE 24, 2018
PLAN ON STAYING THE WEEKEND TO ENJOY
• Two full days of live music, vendors and friends (and then some!)
• The Keeping The Blues Alive Youth Stage both days
• Nightly shows at Smokin' Moe's Ribhouse & Saloon
• Music On The Square at Cooper Creek
• Annual Blues From The Top 16 After Party at Winter Park Pub
GRAND COUNTY BLUES SOCIETY
& BLUE STAR CONNECTION
The Grand Country Blues Society was created to enhance the cultural existence of Grand County residents and to be a beacon for our friends and visitors that love escaping to the shadow of the Continental Divide. For more than a decade, the GCBS has produced 13 Blues Festivals and over 250 individual blues concerts, and has continued a Blues In The School effort throughout all of our county schools. We have done all of this with an all-volunteer board, and a very loyal and generous membership.
Blue Star Connection is a program that has non-profit status along with the Grand County Blues Society. As a program in its 10th year, Blue Star Connection has supplied over 50 Children's Hospitals with valuable and plentiful collections of musical instruments for their music therapy departments. BSC has also gifted hundreds of individual children personal instruments. We continue to support the music therapy industry with an all-out effort and constant fundraising and to continue the mission. Music Therapy needs an advocate, and we are proud to be considered a front runner.
We simply couldn't do what we do without the help of our sponsors. Please support these businesses, as they support us. For information on becoming a sponsor, contact us today!
Blues From The Top has always been dedicated to the future of the young musicians in our midst. We have always seen the talent rush to the stage and excite our audiences. These artists have not just been young, they have been extremely talented and hard working. It is a pleasure for us to raise money for them to have perform along with the adults. We created a place for them to shine and they have been a huge asset to our event.
We have never used recorded cd's but rather we use live music for our set changes. We have had kids and families come for all over the country to perform at Blues From The Top in front of thousands of festival goers. It has been something that sponsors have generously supported and we have watched some of the kids actually grow up at BFTT.
The kids learn how to play live with other kids and learn music they might not have planned on being able to learn. They have taken to the challenge with great courage and made the festival a place where dreams can and do begin. The kids have their own stage and sound system and as the future continues we have plans to instruct more and even venture in to sound and lights.
The kids range in ages and we encourage the learning of the Blues, but we also allow the kids to have a voice that matters to them. This is a great foundation for young music fans and a chance for us to enjoy the music they bring us from their world as well.
I think if you see what these kids are capable of, you will be one of the adults in the front row. We look forward to seeing what the youngsters have planned for the future.
Sign up to our Newsletter
Sign up for our daily newsletter and receive the best and most up to date news right away. Every month we also pick a winner among our newsletter readers. They will receive a full year of our special VIP membership.